LadyBlue's Home On The Web
Welcome to my home! I'll take you on a cyber tour. If you look very close, you may find my hidden room.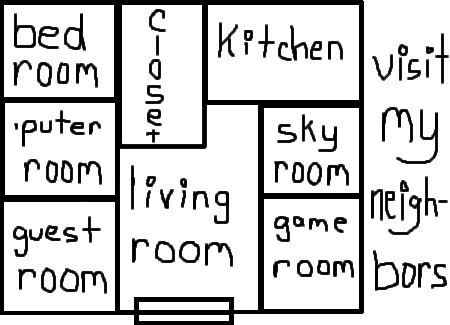 Kick off your shoes and come on in. I promise no spiders will crawl out and get you!
| | |
| --- | --- |
| | In my bedroom you'll find warped pages. |
| | In my closet you'll find some original writings I did. One even won a Wurst of the Web award! |
| | In my kitchen you will find my recipe for making home pages |
| | In my 'puter room is links to stuff I use for work mostly |
| | Please sign my guest book in the guest room. I like hearing your comments. |
| | In my living room you'll find newspapers and magazines on the table. |
| | My game room has a riddle game with some original riddles, word puzzles, plus links to online games. |
| | My sky room is my favorite room of all ... you can see the universe from here! |
| | My neighbors have done some pretty good homepages! You will find their addresses here. |
Thanks for stopping by. :) Y'all come back now, ya hear?

When my gratuitous <-- webcounter --> webcounter from digits died sometime between 2008 and 2010, it showed "17,379" hits since December 25th, 1995. I can say from my analytics that this very old and very out-of-date website has had over 500 hits since 2012. While that is a very small number compared to the number of hits when the web was much smaller, I can say that not all of the new hits are web bots. That is something for an old non-updated site. Still, it is the first website I made, so I will keep it up to remind me of when this whole Internet madness started for me back in the 1990s.

LadyBlue updated this page Tuesday , March 09, 2021 03:24 PM