LadyBlue's Sky Room

This is my favorite room in the whole house! I find physics very interesting. I hope you enjoy it. :) If you're looking for good books on physics, try Carl Sagan's 'Cosmos', Stephen Hawking's 'A Brief History of Time', or John Gribbon's 'In Search of Schrodinger's Cat'.
Want some info on the Space Shuttle missions? Want to see pictures of earth taken from the Space Shuttle? How 'bout some 3-D pics and movies that require 3-D glasses? Or even just a nice fly around? Then Jet Propulsion Laboratories is where you want to be!
JPL - Imaging Radar Home Page
I love this picture of ic434.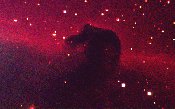 Click here or on the picture to see the better resolution .gif
The American Astronomical Society (AAS), established 1899, is the major professional organization in North America for astronomers and other scientists and individuals interested in astronomy.
American Astronomical Society Home Page
Eric's Treasure Trove of Science is just that, a treasure trove that he created of astronomy, chemistry, math, music, and physics. He is currently a research scientist and system administrator at the University of Virginia's astronomy department. Thanks Eric!
Eric W. Weisstein's Treasure Trove
NASA's speculation about lightning on Mars with an artist's coneception. I thought it looked cool!
Lightning on Mars
Clean Energies Technologies, Inc. is doing some amazing work with cold fusion!
Clean Energy Technologies, Inc.(Home Page)
MIT's research on Cold Fusion
Cold Fusion Technology
Phil Gibbs has extensive resources on physics, plus a FREE electronic book! If you like physics, you want to check out his pages.
New and Alternative Theories of Physics
If you want to find out anything about Einstein (he's my hero!), you can find it here.
Albert Einstein Online
Stephen Hawking is arguably THE most influential physicist of today!
Stephen Hawking (Home Page)
Stephen Hawking, The Big Bang, and God
David Cherniack Films: Transcripts - Hawking vs. the Strings

Carl Sagan is the astronomer who got me interested in physics from watching his series, COSMOS. Did you know that he never really said "Billions and Billions" in that series? His loss on Dec 20th, 1996 to pneumonia will be sorely felt throughout the cosmos.
Carl Sagan's Home Page (very brief)
The Dr. Carl Sagan Honorary Site
Morningside realaudio clips of Sagan
Dr. Carl Sagan
The Planetary Society (Co-founded by Carl Sagan)
TPS : TRIBUTE TO CARL SAGAN
Can we really travel through time?
Doc Fortran's Page of Time
Here's the physics related sites the University of Texas at Austin finds interesting.
Physics Related Web Sites
Gorgeous images of gaseous nebulae (some taken by hubble) and a bit of information about each.
The Web Nebulae
Fermilab is a high-energy physics laboratory, home of the world's most powerful particle accelerator, the Tevatron
Fermi National Accelerator Laboratory Home Page
Are there really 10 dimensions?
A Theory of Everything: Virtual Chaos
Can we really be certain of anything?
The Birth of Quantum Physics
The Nature of Existance
Origin of Universe
Is the Universe just stringing us along?
The Second Superstring Revolution

Last updated by LadyBlue Friday, June 10, 2005 07:03 PM